Cooking Safely – The Importance of Cleanup & Sanitization Services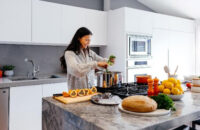 Kitchen safety, cleanup, and sanitation can determine the health of the entire house and its occupants. Moreover, the kitchen cleanliness can impact the cleanliness of the rest of the house in various aspects. But unlike popular opinion, kitchen cleanup and sanitation isn't only necessary for those who regularly use their kitchen. Let's find out the top seven reasons why keeping your home's kitchen clean and sanitized at all times is necessary:
Keeps Away Mold and Pests
Mold growth is inevitable on almost all food items. Since the kitchen is where food is stored, prepared, and eaten, there is a high chance of mold growth in the kitchen at all times. 
Mold can be a lot more dangerous than it appears. Mold spores are always present in the air, and they only require some dampness on organic matter to grow. As food items are organic matter and most contain some water content, they become the ideal place for mold to grow. Moldy food items should be thrown away as soon as possible. Mold on food can cause mold to spread and grow in other kitchen spots.
For example, under the sink, dishwasher, and refrigerator can also be ideal habitats for mold growth in the kitchen. However, mold can also grow inside the cabinets, walls, or the tiles near the sink. 
Mold growth can be dangerous for two main reasons. Firstly, it spreads quickly and can destroy many food items placed on the kitchen counter, in the pantry, or inside the cabinets. Mold growth on food items results in the waste of these food items and money. 
Secondly, mold growth can be severely damaging to health. Exposure to mold growth leads to flu-like symptoms such as cough, sneezing, and redness and itchiness in the eyes. Inhaling or ingesting mold can be more harmful and lead to difficulty breathing and neurological damage. Inhaling or ingesting mold is highly possible if mold grows in the kitchen.
However, regular kitchen cleanup and sanitation, including disposing of any spoilt food and wiping away dampness, reduces the chances of mold growth in the kitchen. It also controls mold growth and its spread.
Diagnoses Water Damage Quickly
Water damage is highly plausible in kitchens due to the constant use of the kitchen sink and dishwasher. However, water damage may sometimes stay hidden if ignored under the sink cabinet. Besides the cabinet under the sink, water damage can also occur through the water pipes running through the kitchen walls. 
Regular cleanup and sanitation of the kitchen help diagnose the water damage as soon as it occurs. Cleaning your kitchen will allow you to spot water damage as soon as it occurs. If you don't peek inside the sink cabinet, you may miss the ongoing water damage for months. It will only come to light when it has worsened to a great extent. At that stage, you will end up putting in more effort and money than it would have required had you diagnosed it earlier. 
Hidden water damage in the kitchen can also lead to mold growth. Through the pipes in the kitchen, mold can transfer to other areas of the home, such as the bathroom, hot tubs, and pool. Mold growth can also spread to the inside of the walls along the leaking pipe and affect the structural integrity of your home's walls. Hence, if you ever spot water damage in your kitchen during cleaning, call a water damage restoration service as soon as you can. 
Home cooking fires make up a significant portion of the US fire problem. Out of all home cooking fires, over 60% occur due to uncontrolled cooktops and ranges. One of the primary reasons for uncontrolled cooktops and range fires is the hardened greased and spilled food. 
When not cleaned up, food spilled during cooking can harden with time. This food, being organic matter, is flammable. Spilled grease and oil can be highly flammable too. The presence of these hardened, flammable substances on the cooking range can easily lead to a cooking fire becoming uncontrollable. Moreover, uncleaned, spilled food can also attract pests, insects, and even mold growth in your kitchen. Like mold, pests and insects can also spread to other areas of your home. 
You can reduce the chances of such unforeseen fire damage and pest problem in your home by keeping your cooking range, microwave, and other cooking appliances clean. Spilled food is also much easier to clean before it gets hardened, ensuring fire safety and cleanup and sanitation.
Easy Kitchen Cleanup and Sanitation Routine
For effective cleanup and sanitation of your kitchen, make three different cleaning schedules. One cleaning schedule should involve daily kitchen cleaning tasks, the second one should include weekly kitchen cleaning tasks, and the third one should ensure a thorough monthly cleanup and sanitation of the kitchen.
Daily kitchen cleaning can revolve around putting away food, cleaning any spilled food, taking out the kitchen trash, putting away clean dishes or putting dishes in the dishwasher, and sanitizing the kitchen counters. Weekly kitchen cleaning should include disposing of any spoiled food in the refrigerator and cleaning up the microwave and oven. Lastly, monthly kitchen cleanup and sanitation should include cleaning kitchen cabinets, rinsing the dishwasher, and dusting the walls. 
Finally, if you ever spot mold growth or water damage in your kitchen, or the unfortunate incident of a kitchen fire, call a restoration service. Many restoration companies in Western Maryland, such as the 911 Restoration of Western Maryland, provide complete and effective cleanup and sanitation services for residential and commercial properties.