Water Damage Restoration in Western Maryland
911 Restoration of Western Maryland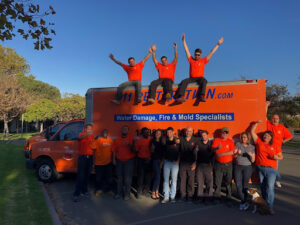 If you find yourself at a crossroads of a property disaster and are looking for the best water damage restoration Maryland has near you, you can finally breathe.
It's not always rainbows and peace in the Frederick and Hagerstown areas. Especially the moment a disaster like a Western Maryland snowstorm or flooding strikes when you least expect it to.
That's why 911 Restoration of Western Maryland is a complete disaster restoration provider ready on standby 24/7 to come to your rescue.
When you work with us, you can expect nothing but a Fresh Start on the way.
A team that puts you and your property first the whole way through

Fast response time with a 45-minute or less arrival after any call

Same-day service you can rely on

We work with all insurance companies to leave you stress-free

We have the nationwide resources and deliver caring customer service
It's our duty to make you succeed regardless of what you're going through. Whether you're in need of water mold fire restoration near you – we can help. There's always an opportunity full of second chances around the corner that we'll help you find.
Discover a Fresh Start with 911 Restoration of Western Maryland today.
Water Damage Restoration Frederick Near Me
It's one of the leading causes of property disasters. No Frederick or Hagerstown property owner ever wants to see their property downing in water damage.
From flooded basements, leaking pipes, or sewage backup – it's also a headache to deal with.
Thankfully our IICRC-certified team delivers the best water damage restoration Frederick has near you with a Fresh Start.
Free visual inspection for property owners only

Emergency pack-out and storage services

Free insurance consultation

Emergency roof repair

Complete water extraction, drying, & dehumidifying
They use state-of-the-art drying and dehumidifying technology to stay on top of waters that get into the slightest cracks and spaces.
Your search for "Hagerstown water damage restoration near me" can finally come to a peaceful end.
Get your Hagerstown water damage mitigation near you today from an expert team that cares.
Service area map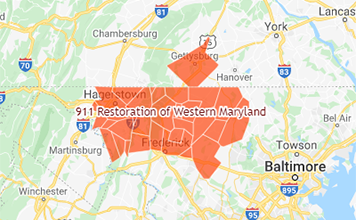 Sanitization Services and Disinfection Solutions
We ensure the safety of your property by following guidelines from the EPA and CDC for maximum protection of any pathogen.
In the age of the coronavirus, all our lives have been affected in ways unimaginable.
That's why you can come to our sanitization and disinfection experts for advice on the best cleaning protocols. Some recommended by the CDC include:
Washing your hands for at least 20 seconds to stop the spread of any virus

Wear a mask and gloves while cleaning and disinfecting

Focus on immediate areas occupied by any person who is sick
Our IICRC-certified deep cleaning technicians are there to provide thorough cleaning to reduce the risk of infectious viruses and diseases like covid 19.
Stop living in fear not knowing the risk of your health with deep cleaning solutions.
Mold Removal
If you encounter these stubborn fungi on your Frederick or Hagerstown property, it's normal to feel intimidated by a black wall of splotches.
If not remediated quickly, you'd be exposing yourself to concerning health problems putting you and your family's lives at risk.
From asthma, allergies, headaches, and inflammation – it's not worth it underestimating this growing problem.
Our 911 mold restoration experts have the solutions with the best cleaning equipment, heavy-duty chemicals, and knowledge to take out mold.
IICRC certified in mold remediation

Professional mold inspection & sampling

Third-party laboratory mold testing

Residential & commercial mold removal

Structural drying & dehumidifying
Not sure where to start?
Ask for a free mold inspection where our mold technician will deliver you an in-depth analysis with the most practical and timely solutions possible.
Sewage Backup Cleanup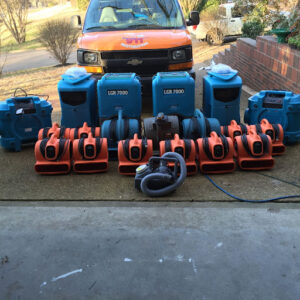 Whether you're looking for quick water damage restoration Frederick has near you, we know it's not a fun experience to deal with.
Chances are your sewage backup situation isn't any easier to deal with.
Bubbling drains and toilets

Putrid odors coming from drains

Black toxic waters coming out of showers

Slow draining in multiple fixtures

Bizzare plumbing problems
The worst thing we'd want for your sewage backup problem is to leave bigger messes on your property that require water damage mitigation near you.
Thankfully our experts in water damage restoration Frederick has near you use the latest technology to get the job done right.
You'll soon be walking to your property dry and free of sewage disaster due to our speedy drying and dehumidifying equipment.
Get a Fresh Start free of sewage backup.
Client Testimonial
Sherry M.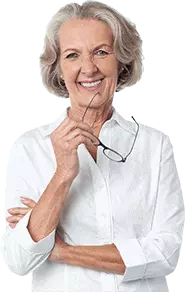 "I would give them 6 stars if I could. I had to deal with a flood in my business, an absolute nightmare for every business owner. [911 Restoration] came right away, and they are so professional and efficient. Even after everything was done they followed up and made sure everything was back to normal. A+ customer service. Thank you!"
Water damage restoration companies also do many other types of restoration services.
Fire and Smoke Damage Restoration
Accidentally left the stovetop on overnight or had an old electrical appliance burst into sparks?
We know accidents happen and that it's totally normal to feel hard on yourself.
Our friendly team will assure you get the best fire damage restoration near you with unmatched treatment, respect, and care.
Smoke removal, soot removal, and ash removal

Permanent odor removal

Packing out and storing undamaged belongings

Free fire damage assessment

Cleaning dishes, surfaces, and furniture
A new beginning is always possible when you work with the water mold fire restoration experts near Hagerstown and Frederick.
Leave your stress and worries behind and enquire today for fire damage repair near me.
Disaster Restoration

Disasters aren't a one-size-fits-all type of situation.
They show no mercy the moment they arrive, leaving you no time to bear for safety.
Don't let your urgent needs for water damage mitigation near Frederick or fire damage restoration near Hagerstown get to you.
You can rely on 911 Restoration of Western Maryland to deliver you our Fresh Start Attitude.
We'll show you the light in any negative situation

We treat all our customers with respect, compassion, and empathy

We always listen to your needs and goals

You deserve fast, reliable, and timely service for any disaster

Our IICRC-certified experts are reliable and always put you and your property first
Don't let your Frederick or Hagerstown property disaster for the need of water mold fire restoration near you get in the way of life.
Get back on track with disaster restoration from a friendly team that cares.
Commercial Restoration
Whether you're a business owner or property owner, we understand the long list of responsibilities you're equipped with.
It would be unfair for a Frederick or Hagerstown property owner to bear the overwhelming responsibilities of maintaining their commercial property.
Leave it to the experts to give you the peace of mind you deserve for any type of commercial restoration task.
Water damage mitigation near Hagerstown

Water mold fire restoration near Frederick

Fire damage restoration near Hagerstown
Call 911 Restoration of Western Maryland to help you with your commercial mold control near me.
You'll be surprised how easy and attainable a Fresh Start is!