Importance of Decontamination After Home Restoration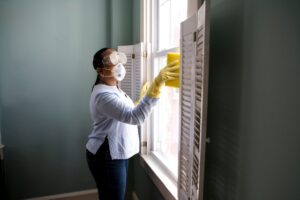 Accidents are inevitable, but fortunately, they can be controlled and taken care of. If your house was compromised due to fire or water damage, then it is best to get in touch with a home restoration service company like 911 Restoration of West Maryland to take care of the situation. Water and fire damage can be catastrophic and only experts and professionals are well-equipped to work on the repair and restoration process.
While we all agree that professional home restoration services are extremely important after water damage or fire incident, here is another food for thought for you, 'is decontamination after home restoration really necessary?'.
The answer is, yes! Decontamination after home restoration is extremely important.
Decontamination is defined as the procedure of eradicating all contaminated and hazardous substances from the environment. Decontamination also helps prevent these harmful substances from further spreading into the environment. In addition to this, decontamination services help maintain and sometimes improve the value of a property.
It is essential to get your house decontaminated followed by restoration services to prevent it from further damage. However, keep in mind that decontamination is not another DIY project that you can easily do at home and call it a day. It is a complex process, that has to be carried out in a specific order to ensure that your house is decontaminated properly. Only expert professionals are able to do justice to the job.
Decontamination Process – Step-by-Step Guide
Typical decontamination of the home process has four steps:
Pre-Sterilization Cleaning
Disinfection
Inspection
Sterilization
Pre-sterilization Cleaning
A professional cleaning company will begin the decontamination process by doing a deep cleaning of your house using detergent and washing equipment. This includes anything and everything from the furniture to flooring to equipment to other small items. Everything must be cleaned and washed thoroughly to remove all surface-level dust and dirt from it.
This process also makes it easier to disinfect and decontaminate everything later in the process as everything is already free from dirt and dust particles. In addition to removing dust, washing is also ideal for pre-sterilization cleaning as it adds a layer of safety to the whole decontamination process.
Disinfection
This is an important step of decontamination as it helps reduce bacteria and other hazardous substances from your home. In the decontamination process, two key methods of disinfection are used. The first method is chemical disinfection in which a professional cleaning company will use chemical agents to disinfect your furniture, walls, flooring, etc.
Professional companies use high-grade and legally authorized chemicals for this process and hence they know how to carry out this dangerous process in a safe manner. The most commonly used chemical for cleaning is chlorine and handling chlorine in excessive amounts is no child's play. This is why we call experts to handle the job.
Followed by chemical disinfection, professional cleaning companies carry out a physical disinfection process. They use high-tech equipment and instruments to ensure that each corner of your house is disinfected properly.
Inspection
Once the cleaners are done cleaning your house, a detailed inspection is done. All your furniture, corners, and everywhere is checked thoroughly before beginning the process of sterilization. If the cleaners team finds some furniture or objects still contaminated, they will reject those and re-clean them. This step is to ensure that every object and piece of furniture is sterilized is perfectly cleaned.
Sterilization
After the inspection, the sterilization process starts. The cleaners team has special equipment to sterilize your home. All your objects and furniture are treated under a specific range of temperature that's perfect for the particular object. The different types of equipment used in this process are designed to circulate steam around every corner and object of your house. Each area and object is sterilized separately to ensure a hundred percent sterilization. After the process has been completed, the whole house and every object and corner of the house are monitored via special equipment to check the sterilization values.
Contact 911 Restoration for World-Class Decontamination Services
If you are looking to hire a professional cleaning service company for decontaminating your home, make sure that you choose one with multiple years of experience in the field. Decontamination is a serious job that needs to be carried out to perfection, or else all your money would go to waste. This is why thousands of people have put their trust in the 911 Restoration of Western Maryland for this purpose. 911 Restoration of Western Maryland is well-known in the field of home restoration and professional cleaning. They have been serving the industry for several years and are operating across the United States.
You can blindly trust 911 Restoration to provide you with the most technologically advanced methods of cleaning and decontamination. Through meticulous research, our experts have created the most active yet safe specialist chemicals to be used for cleaning and decontaminating different surfaces. No other brand in our field matches up to the quality of the products and services that we offer. Our vast experience makes it possible for us to deal with a wide range of spaces in the most efficient and quickest way possible. Contact us today!